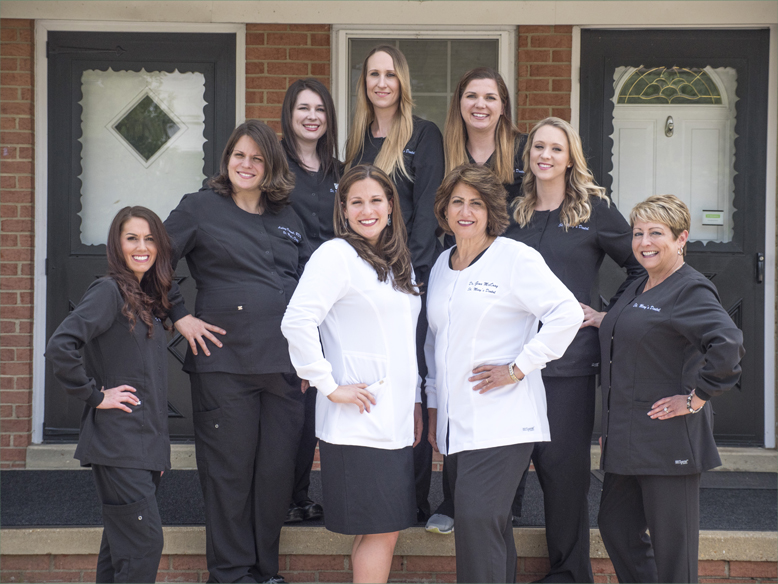 ---
AUDREY McCRAY, RDH, MBA
Audrey graduated from the University of Maryland, Baltimore College of Dental Surgery with a Bachelor of Science Degree in Dental Hygiene. Audrey also completed her Master's Degree in Business Administration through Indiana Wesleyan University. She currently lives in Southern Maryland with her daughter and son. Her special interests include a study of the oral-systemic link—that is the link between oral health and systemic diseases. She is licensed to administer local anesthesia as well as monitor laughing gas, which helps her ensure her patients' comfort during their more advanced dental hygiene visits. Also, within the realm of advanced dental hygiene, she is certified in gingival curettage. Audrey's warm, gentle demeanor and her excellent manual dexterity make her a wonderful hygienist at St. Mary's Dental. In her spare time, Audrey co-directs her church youth choir. She enjoys salsa dancing, playing piano, playing tennis, and scrapbooking with friends.
---
Sarah Christopher, RDH, BS
Sarah Christopher was born in St. Mary's County Maryland and attended Chopticon High School. She went on to become a mountaineer and graduated from West Virginia University with highest honors. There she received a Bachelor of Science in dental hygiene. Sarah spent the last few years working in sedation dentistry where she gained extensive experience treating fearful patients. Her post graduate study has included training on the most current techniques for administration of local anesthesia and laughing gas monitoring. Sarah has treated many cases of advanced periodontal disease and likes to focus her continuing education on the most current and effective treatments for the disease.
Sarah enjoys volunteering and has attended several Mission of Mercy projects to serve her local community. She has also participated in a volunteer program in Honduras called Global Brigades, providing underprivileged communities with medical and dental care.
Sarah's hobbies include spending time with friends, boating, fishing, camping, hiking, and cooking. She is now living in Chaptico with her husband, daughter, and their dog Ernest. Their favorite weekend activities are church and spending time with family.
---
KRISTEN HAMMETT, RDH, BS
Kristen was born and raised in St. Mary's County. She graduated from St. Mary's Ryken with the dream of becoming a dental hygienist. Kristen later graduated as class president from University of Maryland, Baltimore College of Dental Surgery with a Bachelor of Science Degree in Dental Hygiene. Kristen was awarded the Colgate Student Total Achievement Recognition award and selected for Who's Who Among Students in American Universities and Colleges. She is licensed to administer local anesthesia, monitor laughing gas, and gingival curettage. In her spare time, Kristen enjoys spending time with her family.
---
Betty Ratliff, Clinical Supervisor
Betty is a life-long resident of Maryland and currently resides in Park Hall with her family. She has 30+ years of experience in the dental field as both a General Dental Assistant and a Certified Orthodontic Assistant and became a valued member of the St. Mary's Dental team in 2003. She believes in providing quality patient care in a warm and friendly environment. Betty enjoys being a St. Mary's Dental team member where patients receive the highest standard of care possible and where both the Doctor's and Team listen to the patient's concerns and needs.
Betty is certified in Dental Radiology, Advanced Cardiac Life Support, CPR, is a Notary Public of the State of Maryland, and is a current member of The American Dental Assistants Association. Betty continues to update her clinical skills with regular continuing education courses in Infection Control, Sedation, Restorative, and Cosmetic Dentistry. In 2012, Betty was nominated for the Crown Council "Best Dental Assistant of 2012."
Along with spending time with her family and friends, she enjoys being outdoors in her garden, trying new recipes, and flea markets.
---
Jacquelinn Price, Certified Dental Assistant
Jackie moved to St. Mary's County in February 2003 after living in numerous places on the east coast. She resides in Leonardtown with her daughter, son, and two cats. Jackie excelled in the Chairside Dental Assisting course through the College of Southern Maryland and became licensed in oral radiography through the Dental Assistant National Board (DANB). She is a certified dental assistant, CPR, Advanced Cardiac Life Support Certified, and has been a part of our team since 2014.
Jackie is excited to be a team member at St. Mary's Dental. Her friendly and cheerful personality shine through as she implements her many years as a caregiver. In her spare time she enjoys spending time with her adorable family, cheering on the Redskins and dabbling in photography.
---
Victoria Cisco, Business Manager
Victoria has lived in Southern Maryland her entire life and currently resides in Mechanicsville with her husband and two daughters. Victoria has a background in medical administration most of which has been concentrated in insurance billing and patient scheduling. She has obtained an Associate's Degree in Medical Billing and Coding from Anthem College.
Victoria is working towards the requirements to obtain a Fellowship with the American Association of Dental Office Managers. Victoria is likely to be the first smile you'll see when you arrive at our office and she strives to ensure all of our patients are taken care of from the moment they walk in the door. She loves to see how happy our patients are when they see their finished results. In her spare time, Victoria enjoys scrapbooking and spending time with her family and friends.
---
Melissa Russell, Scheduling Supervisor
Melissa was born and raised in Southern Maryland and currently lives in California with her two boys. She has nine years of experience working as a front desk team member. Melissa's background is in business administration in the Veterinary field, mainly in scheduling and financial arrangements. She will continue to grow by taking many dental administration courses.
Melissa is excited about the dental field and loves to make sure our patients are taken care of from the moment of their first phone call to the moment they walk through the door. In her spare time, she enjoys making custom string art, doing hair on the side, fishing, hunting, and bowling. Most of all, she loves spending time with her boys and fiancé'