Statistics reveal, that as a society, we place a high value on our smiles. According to an American Academy of Cosmetic Dentistry survey: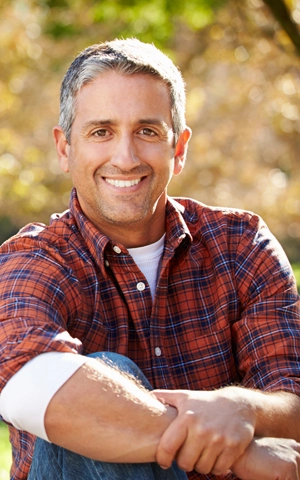 Virtually all adults (99.7%) believe a smile is an important social asset. Ninety-six percent of adults believe an attractive smile makes a person more appealing to members of the opposite sex.
Three-quarters (74%) of adults feel an unattractive smile can hurt a person's chance for career success.
When respondents were asked, "What would you like to improve most about your smile?" The most common response was: Whiter and brighter teeth.
At St. Mary's Dental, we want you to smile your best! With our restorative dentistry options for teeth repair, we can restore teeth that have suffered because of cavities, infections, traumas, or treatments. And we can combine restorative dentistry with cosmetic dentistry and create a full-mouth reconstruction, too!
Teeth Repair Options
For our Mechanicsville patients, we can use teeth restoration to straighten misalignments, heal infections, treat decay, and replace missing teeth. Our preferred method for straightening teeth is Invisalign. And we have several choices for tooth replacement, including dental implants.Some of the most common restorations are:
Dental Crowns and Tooth-Colored Fillings
Fillings are used to strengthen teeth weakened, broken, or cracked due to decay or disease. We typically use composite tooth-colored resins as dental fillings for treated teeth. Tooth-colored fillings are metal-free and mercury-free, provide durable results, and resist damage.
If you're interested in a conservative option that preserves as much of your tooth as possible, we suggest tooth-colored fillings. And to ensure the continued strength, function, and beauty of your restored tooth, the dentists at St. Mary's Dental may recommend the addition of a porcelain crown.
Crowns are used when damage is more extensive. Using porcelain crowns, we can provide you with strength and stability that looks great and leads to natural-looking results. Porcelain looks like tooth enamel, allowing porcelain crowns to help you keep your smile beautiful when we restore oral health.
Root Canals
If you have infections in your teeth, we may also need to do root canals. This procedure allows Dr. McCray and Dr. Demer to remove and clean the inner-most portion of the tooth and replace it with a biocompatible material that will resist infection. Then, the tooth is fitted with a filling and dental crown for strength, appearance, and protection.
Other Restorative Dentistry Options Include:
Metal-Free Fillings
Porcelain Restorations (Inlays/Onlays & Crowns)
Dental Implants
Tooth Replacements (Bridges, Dentures)
Non-surgical Periodontal Treatment
St. Mary's Dental serves the general, cosmetic, restorative, and sedation dentistry needs for the communities of Mechanicsville, LaPlata, Hollywood, Charlotte Hall, Waldorf, Leonardtown, and Lexington Park. To receive excellence in family, cosmetic, and implant dentistry, please make your appointment now!
Related Content