At St. Mary's, our team is passionate about giving back to the community. With that in mind, we're proud to be associated with the following organizations:
"Pajama Connection of Hollywood United Methodist Church has been serving Southern Maryland homeless, foster, and needy children since July 2008. Children, infant to 18 years, of all races and religions are referred to us from seven agencies in the Tri-county area. Every child receives an age appropriate tote filled with pajamas, a stuffed animal, two pairs of socks, an activity book, school supplies, a new outfit, a toothbrush and toothpaste and personal care items if a teenager. We wanted each homeless child to have something to call their own as they move from place to place. We have expanded since 2008 and now help needy children identified by various agencies.
We deliver to four homeless agencies (Three Oaks Women's Shelter, Angel Watch Shelter, Project Echo and Safe Harbor), four different departments at Charles County Social Services, Lexington Park Rescue Squad, and the St. Mary's Board of Education, Pupil Services Division. The St. Mary's Board of Education Homeless Committee has identified over 150 students as homeless since they have no fixed address. We assist these children by giving extra clothing and purchase jackets or coats whenever needed. Last year we delivered 385 pajama totes to homeless, foster, and needy children. Volunteers donate storage space and deliver totes at their expense. The only expense is paper for flyers, stamps, and envelopes. The funds we receive are used to purchase new items listed above for the totes that go directly to needy children."
"Hunter's Heroes, Inc. is a non-profit organization that was founded in loving memory of Hunter Dean Scott who bravely battled brain cancer for 3 years. Hunter became our angel on July 2, 2011 at the age of 7. He amazed his family and community with his smile and compassion. This organization is our way of honoring Hunter's fight to find a cure and giving to children and families that are affected by childhood cancer. Hunter's Heroes, Inc. is recognized by the Internal Revenue Code section 501(c)(3).
The mission of Hunter's Heroes, Inc. is to raise funds for brain tumor research and advances in treatment; increase childhood cancer awareness; and provide uplifting gifts and monetary contributions to families with a child diagnosed with cancer. We are devoted to provide smiles to patients, hope to their families, and support to their battle against cancer. Our fundraising activities allow us to contribute monetary donations to childhood cancer research initiatives as well as provide monetary support and care packages to children and their families that are battling cancer. Care packages are created for oncology patients at local hospitals in the Maryland, Virginia, and Washington, D.C. areas.
The non-profit was founded and is managed by Hunter's parents, Sandy and Eric Scott; his aunt, Tabbetha Russell; and his cousin, Dawn Barrett. While we would give anything to have Hunter here with us, our promise to Hunter was to ensure that his bravery and smile live on; to ensure that we fight to help find a cure. To do this, we have established Hunter's Heroes, Inc. to support childhood cancer awareness and a cure. Our experience showed us that childhood cancer affects too many children. One child is one too many. Together, we can make a difference in the hope that one day no parent has to hear that their child has cancer."
Smiles for Life
Your Teeth Can Lend a Hand to a Child
From March through June, hundreds of dental practices throughout the U.S. and Canada professionally whiten teeth to raise money for seriously ill, disabled, and underprivileged children in their local communities and around the world. They are members of the Crown Council, an alliance of leading-edge dental teams that are passionately committed to promoting oral health, fighting oral cancer, and serving their communities through charitable work.
100% of the Donations Go to the Smiles for Life Foundation
The Smiles For Life Foundation is the children's charity arm of the Crown Council.Ultradent (makers of Boost in-office teeth whitening and Opalescence® take-home trays) donates ALL of the teeth whitening supplies, and participating Crown Council dentists donate ALL of their time to whiten teeth during the Smiles For Life campaign. Together, they offer professional teeth whitening services at substantially reduced prices (donations) with 100% of the proceeds going to the foundation to help kids' charities. 
Since 1998, we've raised over $33 million, benefiting hundreds of children's charities. When you pay for your teeth whitening, you'll write your check directly to the Smiles for Life Foundation, not to the dental practice. Fifty percent of the donations are earmarked for each dental practice's local charity partner, and the balance goes to the Smiles For Life Foundation to be distributed to worthy and approved children's charities across the U.S., Canada and worldwide. Participating children's charities include Children's Miracle Network, Children of Romania, St. Jude Children's Hospital, CURE (in Cambodia), Smiles For Hope, and the Kids Cancer Care Foundation.
The Smiles for Life Foundation is the children's charity organization of the Crown Council, an organization of leading-edge dentists throughout North America.  Each year over a four-month period, participating Crown Council dentists offer professional teeth whitening services at a considerably reduced price and donate the proceeds to children's charities.  The Crown Council's Smiles for Life Foundation has raised more than $30 million since 1998, benefitting over 500 children's charities across North America.
"Smiles for Life is a win-win situation," explains Greg Anderson, director of the Crown Council and one of the founders of the Smiles for Life campaign.  "Patients get a brighter smile, our member dentists get the satisfaction of contributing to their community, and, best of all, children who really need our help get a reason to smile."
Believe In Tomorrow Children's Foundation
Believe In Tomorrow Children's Foundation provides exceptional hospital and respite housing services to critically ill children and their families. Their unique programs bring comfort, hope, and joy to children and their families, enabling them to renew their spirits mentally and physically. They believe in keeping families together during a child's medical crisis, and that the gentle cadence of normal family life has a powerful influence on the healing process. They believe in the highest standards of service and unparalleled hospitality to help create a unique healing environment, where families find hope and comfort.
Since 1986, Believe In Tomorrow has provided over 600,000 individual overnight accommodations, from every state in the U.S. and more than 76 countries worldwide. Their unique hospital housing, respite housing, and Hands On Adventures programs serve as a support system for when families need it most.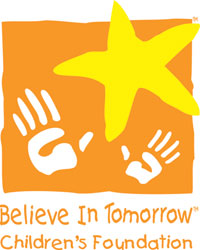 Southern Maryland Missions of Mercy
Volunteers with Southern Maryland Missions of Mercy provide area patients with essential care, free of charge, during a special weekend event.
Juvenile Diabetes Association
The Juvenile Diabetes Association wants to help young people enjoy better health and wellbeing through the funding of type 1 diabetes research.
Mechanicsville Optimists Club
Through fundraising opportunities, community projects, and sponsorships, the members of the Mechanicsville Optimists Club are changing the lives of area young people. The Mission of the Mechanicville Optimists Club is as follows:
To develop optimism as a philosophy of life utilizing the tenets of the Optimist Creed.
To promote an active interest in good government and civic affairs.
To inspire respect for the law.
To promote patriotism and work for international accord and friendship among all people.
To aid and encourage the development of youth in the belief that the giving of one's self in service to others will advance the well-being of humankind, community life, and the world.