Implant Supported Dentures in Mechanicsville, MD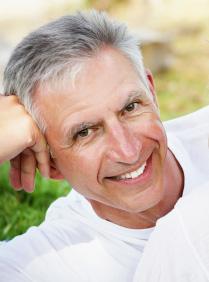 Do your dentures move when you speak or eat? Do you find yourself frustrated with your dentures that fit poorly? If you answered YES to these questions, then you will want to know more about implant retained dentures, also known as denture implants.
Would it surprise you to know that dentures are not a replacement for teeth, they are a replacement for no teeth. This means that healthy teeth are fixed in bone, and they do not move when eating, speaking, chewing, etc. Dentures can esthetically replace teeth so you can smile and have some chewing ability, yet the chewing ability is only a fraction of natural teeth and they will move around. Therefore, dentures are a replacement for no teeth.
Implants, on the other hand, are a replacement for teeth. They are individual screws that are placed into the jawbone and act as a root replacement for teeth. Now, there are many different ways that implants can be used in the mouth: they can be used to replace a single tooth, multiple teeth spanning a few implants and screwed into place (called a fixed denture), or to support a removable denture in a snap-on fashion.
Types of Implant Dentures
There are a couple different types of implant retained dentures. The first option is called a fixed hybrid denture. This kind of denture blends the best of both worlds: a denture, and the fixed (non-removable) nature of implants. This means that it is a single piece that is screwed into place on top of implants—not unlike a sturdy house that is built on top of a solid foundation. It does not get removed except for cleaning and maintenance. It does not move. There are multiple kinds of hybrid dentures, and depending on what results you are looking for, our doctors are happy to discuss their differences with you based on your unique needs and bone structure.
The second kind of implant denture is known as a snap-on denture. This kind of denture is a removable denture and also uses implants as an anchor to provide added security and stability to the denture. The main difference is that the dentures click into place and get removed and cleaned every night by the wearer. This is a less expensive option than the fixed denture, but it provides much more security and stability for dentures.
What are the Benefits of Denture Implants?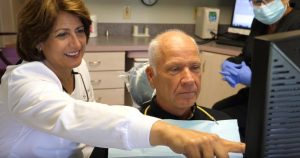 Our patients love for their denture implants for a variety of reasons. Some of the most important benefits of implant dentures include:
Stability – Whether you choose the fixed or removable option of denture implants, they each have added benefits of increasing stability so that the denture doesn't move as much as with traditional dentures.
Functionality – Your ability to eat, chew, and speak with implant supported dentures is greatly enhanced.
Preserves Jawbone Health – Because dental implants implants are anchored in the jawbone, they help keep the bone from shrinking away over time – the natural process that occurs when there are no teeth to maintain the amount of bone in that area.
What is the Denture Implant Process?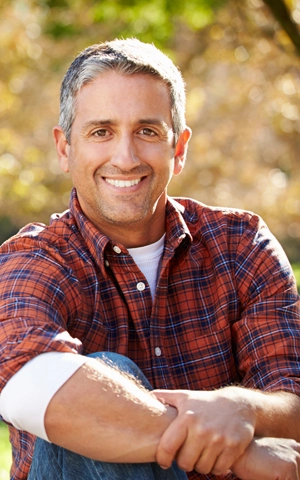 At St. Mary's Dental, we take great care to help you achieve your goals for your smile and overall dental health. By implementing the latest techniques and using the highest quality materials and lab, we are able to deliver a superior experience for our patients. The implant denture process takes a few appointments to be able to design the final results. Depending on your unique needs you can expect, on average, between 2 and 5 appointments for the design process of your implant denture. This is followed by an adjustment period in order to dial in your new smile, and bite.
Why Choose St. Mary's Dental for Implant Dentures
Dr. McCray and Dr. Demer are fellows of the International Academy of Dental Implants, which means they have completed rigorous coursework and surgical training to give their patients the best possible care. One of the advantages to having dental implants placed by Dr. Demer and Dr. McCray is the benefit of using the latest dental technology to give the most predictable surgical outcomes. We use a digital CBCT machine, which provides a 3-D image of the bone available to place implants through a precisely designed surgical guide.
They are able to place the implants in most cases without referring out to an oral surgeon. Depending on your specific needs, there are a range of temporary tooth replacement options while you are without your teeth. The process of implant placement from tooth extraction to the placement of the final teeth on top of the implants ranges from about 1 year to 18 months on average, depending on the case. While it is an investment of your time, our results have proven to be well worth it to our many satisfied implant denture patients.
How Much Do Implant Dentures Cost?
Relatively speaking, the denture implant process has two main investments into your long term dental health. The first investment is time. Depending on where you are in your dental implant and denture journey, the expected time investment can be around 2 months to just over a year. The second investment is a monetary investment. While removable non-implant dentures are considered a faster, more economical alternative, they have many drawbacks associated with them since they are a short-term fix. This is why implant dentures are a great solution for so many people. Depending on the amount of bone available, the number of implants that can be placed, the location of the implants, and patient goals, the number can vary somewhat, but Dr. McCray, Dr. Demer, and their fantastic business team are happy to help you find an option that works well for you.
Schedule an Implant Denture Consultation in Mechanicsville!
Missing or damaged teeth? Interested in learning more about implant supported dentures? Simply call, text, or email us using the contact form on this page. We take pride in serving you and all of our patients throughout the greater Mechanicsville, Leonardtown, and Waldorf areas.
Request an Appointment