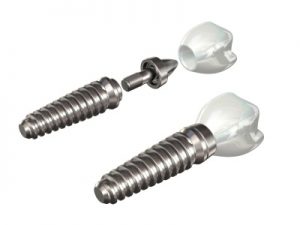 Millions of Americans are missing one or more of their teeth, and because of that they seldom smile. If you are one of them, a dental implant from St. Mary's Dental in Mechanicsville MD can restore your smile.
Not so long ago, dental implants were seen almost like something out of science fiction. Today they have evolved into mainstream dentistry, but they remain one of the most significant advances in the field.
Dental implants are titanium posts that are surgically implanted into your jaw. An artificial tooth goes on top of the post. Once they are in place, they look and function like natural teeth. Just as important, they prevent bone loss. With today's digital technology, dental implants can be placed in the patient's jaw with nearly one hundred percent accuracy.
One caveat: you need to have enough bone mass to support the implant. Even if you don't, there is a solution: bone grafting can give you enough.
Replacing a missing tooth with a dental implant can transform your life. To find out more, call St. Mary's Dental in Mechanicsville MD. We also provide general and family dentistry, and cosmetic dentistry. Schedule a consultation with us today.
Contact St. Mary's Dental:
Location (Tap to open in Google Maps):