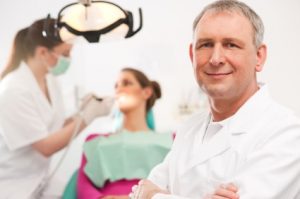 Dental anxiety is a very real issue that affects millions of Americans. For some, the anxiety is so bad they avoid going to the dentist entirely. And that is a serious matter, because avoiding the dentist puts their dental health at risk. If this sounds at all like you, the sedation options provided by St. Mary's Dental in Mechanicsville MD may be just what you need.
There are lots of different reasons people are gripped with dental anxiety. Common issues include a loss of control as they sit in the dentist chair; a fear of injections; and the fear of the after effects of injections. Sometimes people without dental anxiety dismiss it as irrational. For those coping with it, however, it is very real indeed. At St. Mary's Dental, we take those concerns very seriously.
We want our patients to have the best possible dental health. For those with dental anxiety, we offer two sedation dentistry options to get them through their procedures: laughing gas, and oral conscious sedation.
Laughing Gas. Laughing gas has been used in dentistry for more than a hundred years. It may or may not make you laugh, but it is safe and effective. It also wears off quickly.
Oral conscious sedation. This is a sedative, in pill form. You take it an hour or so before your scheduled procedure. It does not usually make patients sleep. But it will make you very drowsy. You're likely to slur your words, and you won't be very aware of what's going on around you. You'll need someone to give you a ride home when your procedure is over.
No question about it: skipping checkups and cleanings puts your dental health at risk. Sedation dentistry is valuable, because it can get you into the dentist's chair when your instincts may send you in the opposite direction. We believe that it is better to have a little help getting through your procedure than getting a mouth full of cavities, or worse.
Don't let anxiety prevent you from getting the dental treatment you need. Make an appointment with St. Mary's Dental in Mechanicsville MD today. In addition to sedation dentistry, we offer general and family dentistry, and popular cosmetic dentistry procedures like teeth whitening.
Contact St. Mary's Dental:
Location (Tap to open in Google Maps):